Emergency officials in Nigeria say more than 40,000 refugees have poured over the border from Cameroon since last October – and their numbers are growing by the day.
They are fleeing violence in the country's south, where the military launched a bloody crackdown after separatists declared a breakaway state – "The Federal Republic of Ambazonia".
In Agbokim village, in southern Nigeria, the BBC met father-of-four Frank Okoro, who has welcomed 28 refugees into his five-room home.
Frank, 57, is a secondary school teacher and a deeply religious man.
He uses his salary and what he earns from his cocoa and cassava farms to cater for his many house-guests. Some are related to his wife, who is from the Cameroonian side of the border – but others are not.
He decided to take them in because their situation was so dire. But it's a squeeze to find room for so many.
'We place mats on the ground," he says. "Almost all the children are on the ground, either on mats or their mothers' wrappers – provided they sleep and wake up peacefully in the morning."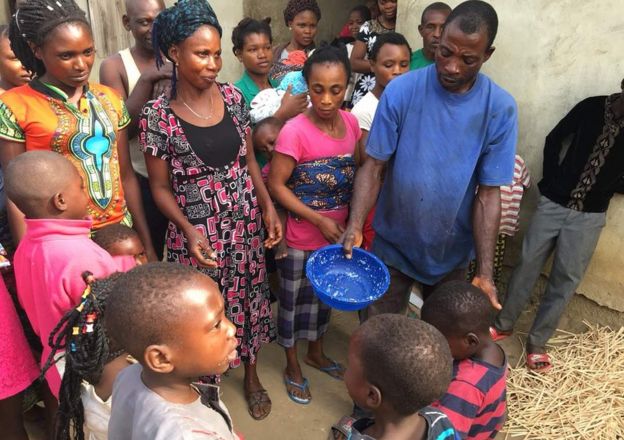 The newcomers try to help with whatever he does – perhaps on the principle that there's "no food for a lazy man".
As farmers, they have enough to go round. "God is helping us greatly," says Frank. But he concedes: "As the father of the home, I have to add more struggle to be able to cope."
Without support from wider family or kind-hearted strangers, the refugees face chronic food shortages. They rarely get aid from local or international agencies, and lack basic healthcare services. Their children have no access to schools.
But the alternative was staying in Cameroon while the military wreak havoc, they say.
'I trekked eight days in the bush'
One young father, Rene, told the BBC he was separated from his wife and children when soldiers completely destroyed their village, killing several people.
His loved ones managed to cross into Nigeria after a long trek, he says, with help from good Samaritans on a motorbike. But he trekked for more than a week in the bush to escape the violence – surviving only on wild fruit and water from streams.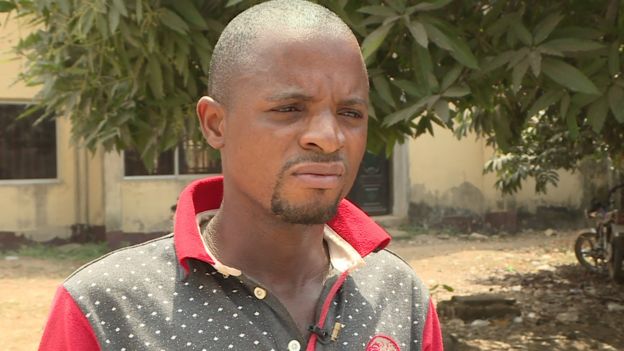 He wandered for more than two days before he found a footpath that led to the village of Bashu in Nigeria's Cross River State – where he was lucky enough to find his family.
They are now hosted in the town of Ikom, about 27km (16 miles) from the border with Cameroon.
"We were living in our village peacefully. All of a sudden, soldiers just invaded our community. After a few minutes we started hearing gunshots, so we were running left and right… I spent eight days in the forest, running."
The 32-year-old says it was the worst experience of his life. He showed me some deep wounds on his leg which he suffered while staggering through the forests and hills.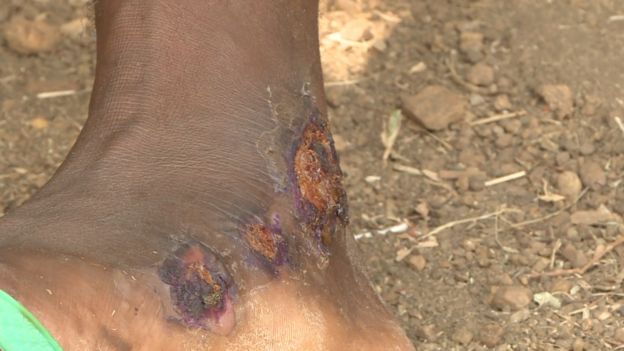 Like many refugees, he says he doesn't want to go back to Cameroon until peace returns to his community.
'I was stripped naked and thrown in the river'
The women who fled speak of being assaulted by the security forces in Cameroon.
Nguma, in her 20s, alleges that she and some other women were "beaten, stripped naked and thrown into the river" by Cameroon military personnel. They made it to Nigeria in boats carrying other refugees.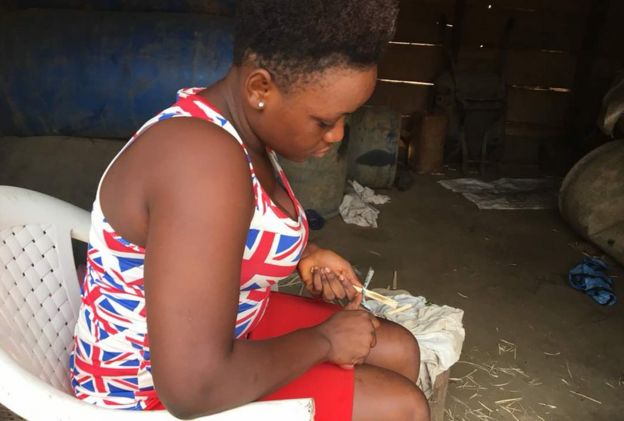 Another woman, Regina, told me she was accosted by three soldiers while rushing home to get her children after riots broke out in her village.
She alleges that a soldier grabbed her as she reached her home. "When somebody is not your husband and is holding your breast, holding you tight onto him… I was really afraid as they say soldiers used to rape people, so I started shouting.
"When the army man saw my children coming out, then he left me in the house corridor."
Many of the refugees who fled to Nigeria say they are still traumatised by the violence they witnessed.
"If we have our independence I will go back," says Regina. "But if the war does not end, I will not go back, because I fear soldiers. Because of those heavy guns, I have some pains in my heart now.
"If I hear the gun [go] boom, my heart goes inside like I want to die. I will not live with those guns inside Cameroon."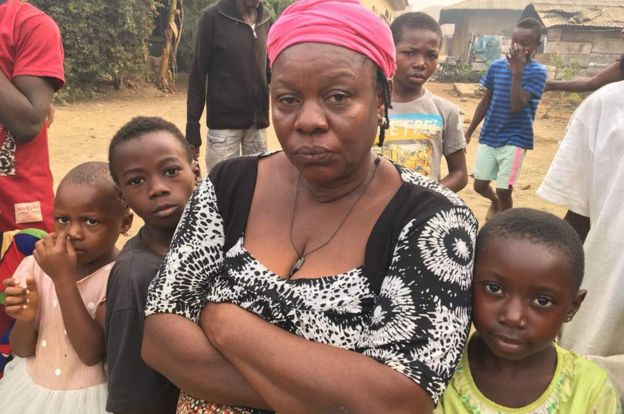 There is a strong sense of uncertainty among the refugees – about Cameroon, which they have fled, and Nigeria where they are taking refuge.
There are now limited routes for refugees to cross over into Nigeria because of the violent military operation on the Cameroonian side. The official routes are not accessible, so desperate people can only cross into Nigeria through the bush.
What is the fighting about?
Cameroon is dominated by French-speakers and the English-speaking minority has long complained about being marginalised.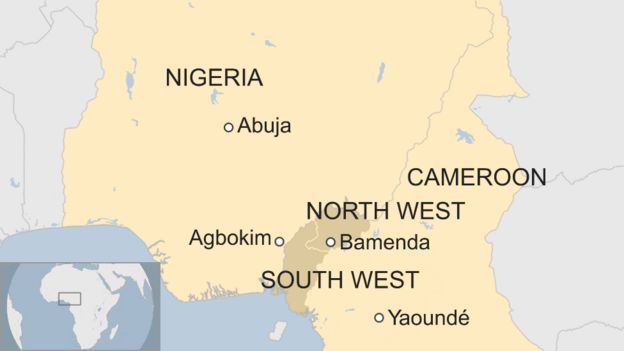 In late 2016, some Anglophones began protesting, saying they were excluded from top civil service jobs, and that the French language and legal system had been imposed on them.
The government responded with a security crackdown and even shut off the internet to English-speaking regions for several months.
But the protests have continued and some have started demanding independence for what they call the "Federal Republic of Ambazonia" – the Anglophone North West and South West provinces.
Some have taken up arms and several members of the security forces have been killed.
The government denies allegations of abuse. It says the military is only trying to protect the territorial integrity of the country.

Find out more: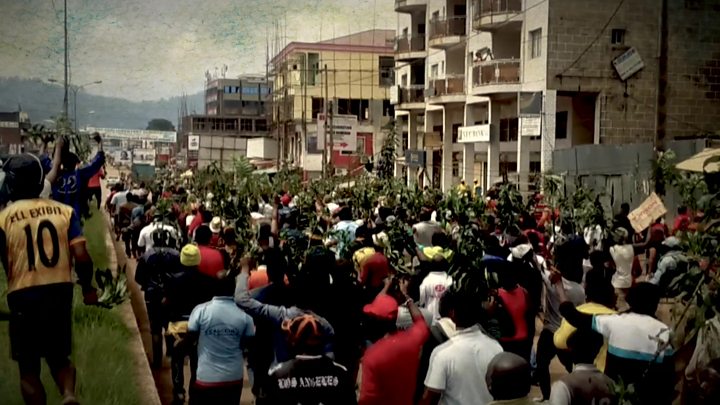 Cameroon's government spokesman Issa Tchiroma Bakary told the BBC the state was open to dialogue on any grievances, but would not tolerate any secession attempt or violent movement.
Nigeria is already grappling with more than two million people displaced by the Boko Haram insurgency in the north – so the influx of Cameroonian refugees has added to its challenges.
Most are in the southern state of Cross River and the central state of Benue.
John Inaku, head of the Emergency Management Agency in Cross River, told the BBC: "So far it is a very hectic experience, and a sad one indeed for you to see an influx of people – especially when you have not budgeted for them. It becomes difficult to assemble them, not to talk of feeding them.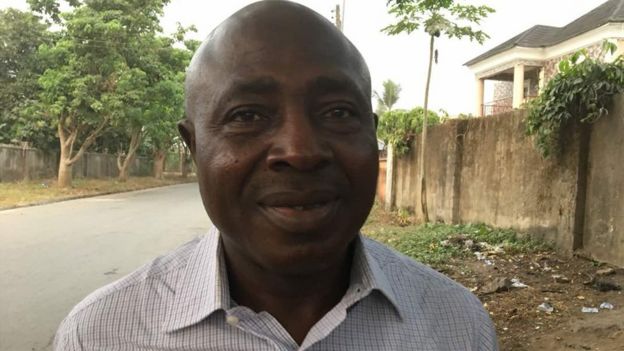 The United Nations High Commission for Refugees (UNHCR), and the International Committee of the Red Cross are among the groups trying to help the thousands of refugees.
The UNHCR has warned against any forceful repatriation of Cameroonian asylum seekers in Nigeria, saying it would be against international law.
Tensions remain high in the English-speaking areas of Cameroon, and it is not clear how long the refugees will stay in Nigeria.
Emergency agencies say they are considering setting up permanent camps for the swelling number of refugees, which they say could reach more than a million in the coming months if peace does not return.
So it looks as though Frank's house-guests are here to stay for some time yet.
bbc