Sierra Leone and the social media are tense as the National Elections Commission ( NEC ) gets ready to announce partial results of the March 7 Presidential, Legislative and Council Elections.
After days of being treated to provisional results from the Independent Radio Network ( IRN ), Sierra Leoneans are about to get their very first batch of the official elections results. NEC  has been warning repeatedly that they are the only legally mandated body to announce official results and pronounce winners.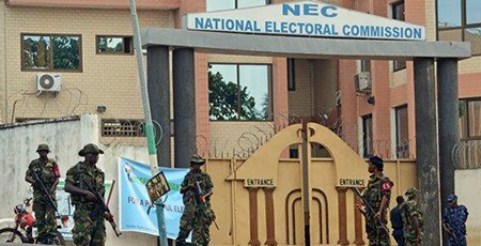 THE HEAVILY GUARDED HEADQUARTERS OF NEC
Reports from our men and women on the ground say that Freetown, the capital of Sierra Leone, is unusually quiet today , probably because of the competing claims coming from the bitter rivals, the ruling All People's Congress ( APC ) and the opposition Sierra Leone People's Party ( SLPP). While IRN,  a network of independent radio stations in the country, has in their provisional results , been showing the APC  holding a commanding lead, the SLPP  have been publishing contrary figures showing the party leading. The social media, which mirrors the sentiments of Sierra Leone's large and vibrant diasporan community, is also quiet in the sense that supporters of the APC  and the SLPP  have become more circumspect in their posts , their minds confused by the conflicting claims of their respective parties.
APC  supporters  , it seems , are not happy because reports coming in state that they did not make a clean sweep of Kono in the South East —home of the dismissed former Vice-President Alhaji Sam Sumana–and one of its Northern strongholds of Kambia, the bastion of the opposition third force party led by Dr. Kandeh Yumkella , which has raised the spectre of a runoff, though APC fans are still predicting that they will win by the first ballot.
Meanwhile, BBC Correspondent , Umaru Fofana , sent in the following report :
Police in eastern #SierraLeone say they've temporarily taken over the offices of the country's three main political parties in Kenema ahead of the announcement of partial results later today. AIG Alfred Karrow-Kamara told me that his troops had ringed the offices of the APC, NGC and SLPP on grounds of security, to ward off any threat to the peace that could emanate from the gathering of party stalwarts.
©Umaru Fofana