Sierra Leone Commits to Enhancing Energy Capacity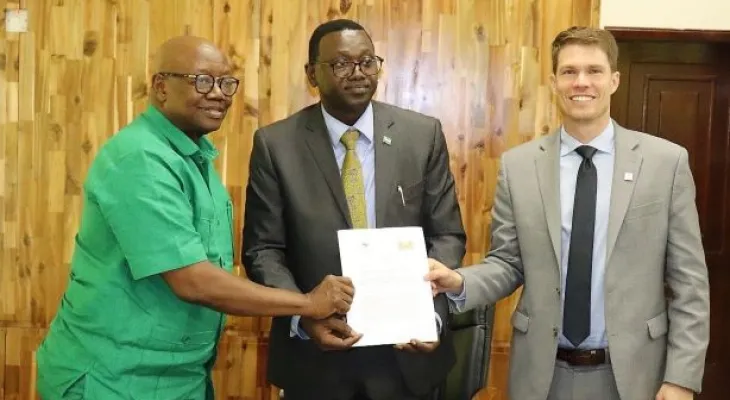 Sierra Leone's Ministers of Energy and Finance, Alhaji Kanja Sesay and Sheku Fantamadi Bangura in that order, at a ceremony marking the official signing of an Aide Memoire with the Millennium Challenge Corporation, MCC, reiterated the commitment of the Government of Sierra Leone to deepening ties with the MCC with a view to maximizing the country's existing and potential energy capacities.
It could be recalled that because of the tremendous and genuine efforts of President Julius Maada Bio in critical social and good governance sectors, Sierra Leone was declared Compact Eligible by the MCC, with the Compact Program focusing on harnessing or improving the country's energy sector.
The main objective of the signing ceremony of the Memorandum of Understanding is for the Government of Sierra Leone and the MCC to bring the Compact development to a close, with the expectation that the MCC will submit the proposed Compact Document to its Board of Directors for approval in September 2023.
Among other things, the proposed Energy Compact is expected to bring about some foundational investments in Sierra Leone's transmission network, including the construction of the Southern Corridor 225kV transmission line, the National Dispatch Centers, and complementary projects at the sub-transmission level, and substations on the 161kV line running from Bumbuna to Freetown.
Minister of Energy, Alhaji Kanja Sesay, said he was happy to grace such a memorable signing ceremony, adding that President Julius Maada Bio was committed to providing reliable, sustainable and affordable electricity for the people of Sierra Leone.
He lauded the reforms in the Aide Memoire, noting that they address critical areas and have the potential to positively impact investments in the energy sector.
Mr. Sesay spoke about the many fruitful engagements and experience-sharing sessions he had had with the MCC's CEO, Alice Albright, the Corporation's Country Director, Steve Grudda, and the US Ambassador, adding that he was looking forward to continuing collaborating with development partners for the improvement of the energy sector.
Minister of Finance, Sheku Fantamadi Bangura, described the occasion as a critical milestone in the country's energy endeavours. He said energy plays a role in unlocking private sector potential.
He underscored the significance of the partnership and support and reiterated the readiness of the Government of Sierra to embark on the reform path outlined in the Memoire.
MCC's Country Director for Sierra Leone, Steve Grudda, expressed appreciation and stated that the next steps are review and approval of the Compact by the MCC management in June 2023, review by the GoSL of the draft Compact in July, approval by the MCC Board in September, and the subsequent signing of the Compact.
The Coordinator of the Sierra Compact Development Unit, SLCDU, Ndeye Koroma, also spoke at the ceremony.
Mohamed Diallo